Single Home sale prices 2011-2016
Check out  home price increases in your area.
Single Home sale prices 2011-2016
House sale prices had the highest five year increase in HINTONBURG – 26.9%.
City-wide, the increase was 9.4%
The lowest was in New Edinburgh and Lindenlea with  a 2.5% increase – that is only a half percent per year.
Rockcliffe prices decreased 5.9% over the same period.
Housing prices increased more in the west and south ends of the city.
Check out this link which will take you to an interactive map of 45 areas of the city.
(click on image to bring up interactive map)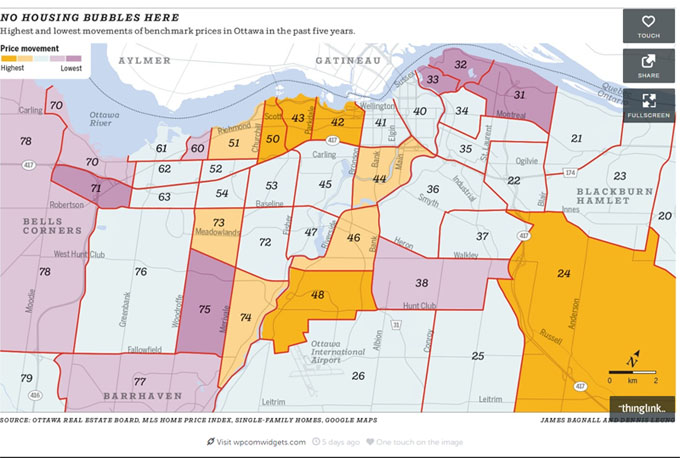 or click this link.
https://www.thinglink.com/scene/884198064141631490
When you hover over an area, it will show you the five year price increase as well as the average home sale price in that specific area.
If your area is not listed here, give me a call and I will provide you with those numbers.
This map appeared  February 6 in the Ottawa Citizen.  Data source:  Ottawa Real Estate Board and MLS Home Price Index of single family homes.